Sunday, April 30, 2006
for:shireeen and pearly.
to the friendship both of you have gave.
the amt of care, concern, love, laughters... ETC.
thank yous....
m looking forward each time now when we meet up.
sharing about our work and the amount
of different random things which are happening.
love you girlies.

thanks for sharinggg life.each time i feel m getting to know u girls better.
it was such a beautiful day for strolling along the park, "the project site"
thanks for letting me tag along
cant wait till the next time when we meet up again.!!!=)) huggs
|chunnie.poh| 10:21 PM|


i dont ever remember being so sick
i was feeeling so sick last night that i cried
i was in pain.feeling feverish and everything
it was like.i cant explain.
i looked at liting and then i just bursted out crying.
cause it was painful and i just couldnt do anything
and i was feeling so warmish and cold toos.
welcome to the world of teaching the preps..=)
|chunnie.poh| 6:32 PM|


Saturday, April 29, 2006
Thank God Its Friday...
the soring of the throat.
the sores in the body.
the puffled eyes.
the coughs
and the sneezes.
alrights. im sick. m falling sick
no matter how much water i dunk myself with
the amt of fruits i eat to build up the immune system
its all crappp... thats what melissa (my teacher) says, it doesnt work
m realli glad its the weeekend.
time to get some rest.
plannings......
during the show and tell in the prep classrooom;
3 questions you would always hear the children asking their friends who are show and telling..
where did you get it?

where do you play with it?

where do you keep it?
imagine the whole 4 weeks being like that.... oh dears..
its been half a year.its amazing how time flies.
everytime i take a look at juliette and ella in class.
it brings back so much memories where i stood with yous.
i cant help but think.and think about it.
living life as it is.
|chunnie.poh| 12:28 AM|


Thursday, April 27, 2006
and a special thank yous to the girlies- cally, fens and janet airen.
thanks for the lovely flowers n bear... the thoughts all the way from sg.
and serene!!! - thanks for the cd... n the card.
i cant express the amount of thanks i have for you guys
everytime i look at the abundance of flowers i have in my living room
the ballloooonss lying around in my bedrooomm.
the cards which pasted on my wall.
i really want to honour each and everyone of YOU!!!
for showing your care,concern and love throughout these times.
be it an sms, a hug, a hello or even a call.
i really appreciate each and every single thought or presence.
dear God,
from the inside out,
i just want to thank you.
for blessing each and everyone into my life.
may You continue to bless each and every individual.
to guide them along the way,
and be in the center of this friendship.
continuing to flourish in ur works.
|chunnie.poh| 12:46 AM|


Wednesday, April 26, 2006
to a friend
a brother.

someone i look up to.
someone who is always looking out for me
thank yous so much.
congrats on ur graduation...


|chunnie.poh| 11:40 PM|


Tuesday, April 25, 2006
its my day...
havent been updating for a while.
beeen busy busy busyyyy
with the assignments.
cousins visit!! (thanks couz for everything).
and i just had dinner with jack!! (amy's bf)
he is down for his graduation tomorrow...

and for a month...
m having my placements. teaching the preps.
its a lovely grade but with some challenging kids.
but i knowww ill learn through that..
hee and remember ella n juliette from my brunswick kinder??
they are in my classs.=))

anyways i really wanna say a big big BIG thank yous
to alll of you for making me so special!!!!!!
i really did felt the blessings from everyone.
thanks everyone for remembering.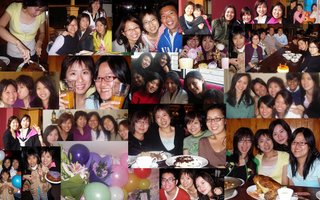 here's photos of whats been happening for the past weeks.
holding to 50 helium balllons.streetlife.wenmin's birthday.
birthday celebrations. grad-ceremony, cutting to a pork knuckle.flowers & balloons
and etc....
happpy birthday to meselfff and those who are born on the 25th april.
*off to plan lessons and its bed time.=)

|chunnie.poh| 11:06 PM|


to the smses. from the family and friends
to the people who came.
to the hsemate surprises.
to the people who called from overseas.

to the lots of love from everyone.
thanks!!!!!!!!!

m really honoured to share this journey with you.
*you made a difference in my life.
thanks for being on this journey with me.
i love you alll heaps.

and i praise and thank you God for everything.

|chunnie.poh| 4:40 PM|


Saturday, April 15, 2006
fascination over the cupcakes
now that i want cupcakes as my birthday cake.
alrightys call me mad.
its the assignments driving me nuts.
actually i might do that.
welll..lets see what happens thens.
|chunnie.poh| 4:53 PM|


apart from the many many assignments on hand
i have 2938298434 other things which i would love to do during this holidays.
it seems to me that i have no time.
time seems to precious to me now.
i want to go out to do stuff.
have coffee and teas in the little alleys of the city
drive to the outer country
go to prahran market for the preeetty cupcakes.
hang out with my dearest dearest friends.
and hanging out with my dearest cousin from sydney.(which i feel really bad for ignoring him now.)
but m feeling so constrained looking at the books and papers surrounding me
and thinking that placement is starting straight after the holidays is just crazy.
its driving me nuts to the max.
i want to take my mind off all these work.
take me to some place where i can scream.and find ease.
|chunnie.poh| 1:03 AM|


Wednesday, April 12, 2006
it was just such a beautiful night not to be missed.
the weather was just perfect.
went to carlton gardens by myself.
if i could, i wld have done so many other things.
buy ur fav. cadbury caramello.
ferror rocher, orange and mango juice. lift lemon drink.
cascade apple sparkling juice.dips and crackers.
and zipped it with love and mailed it into ur mailbox.
sealed wiith warm regards:hope you are doing well.
|chunnie.poh| 12:37 AM|


Tuesday, April 11, 2006
happy happpppy birthday to my dearest dearest baby. and baby girl.
sorry jie cldnt be back to celebrate this big big day with both of you girls.
but i hope that you like the big big barbie doll card i send!!!
to michie:pink's ur favourite colour, and you are 10 years old!!! i still can remember when you were only 2 weeks old and i held you in my arms and feeding you milk from the milk bottle. you are so so so precious....
and i remembered the time when you were 3 years old and mummy had to go to the hospital to give birth to claudia, we brought you out for a birthday celebration without mummy & dad and you kept on asking us where are they?you were so young and were upset.. but now you tell me THAT was the biggest and most precious gift in your life. You hold such a radiant smile and keep that smile on you always. i love love love you.
to claudia:purple is ur fav.colour. and you are 7 years old.you are still so sweeet my baby girl. your features are like a baby, without fail, when we have visitors, you never never fail to make them feel so welcome. when you see someone sitting alone somewhere you would walk over and sit with them.that is so precious baby girl. diadia= deardear.. is something all of us call you. you will always be so dear to the ones around you baby girl. i miss you sitting next to me,because everytime without fail, by the 5th minute, you will be up on my lap.. nua-ing beside me... i miss that gentle touch!! miss the warmth of you. love love love yous.
|chunnie.poh| 9:50 PM|


Sunday, April 09, 2006
inspired.
empowered.
pumped up.
touched.
HE REIGN MOST HIGH!
|chunnie.poh| 9:26 PM|


Saturday, April 08, 2006
6 years of friendship
and we are still counting down
despite all that have come between us.
m glad that we are still the same.
the friendship hadnt changed.
we could still pick up the phone and talk from where we left thens.
throughout alll these times.
you have so much faith in me.encouraging me.
and have never put me down at all
im amazed and im in awe still.
' have faith in yourself, have faith in God, and i have faith in you'
'trust in him' is phrases you always mentioned.
6 years ago,the you and me.
is so different from the you and me now.
we both agreed that we have grown.
both matured and have come to muture understandings.
our conversations might be silly to others but
this is how then, we had built up the relationship and understandings in the past
we still can talk non stop to each other for 3-4 hours on the phone till the wee hours of the morning..
but the difference is that i feel fatigue now.with only 4 hours of sleep.
must be the catching up of age.

thanks

bunny dearest...
for everything.
you mean a lot.
loves loves.
*you have really made my day.
putting that smile on my faccee
here's to you and our friendship.
|chunnie.poh| 6:03 PM|


pretty cupcakes that are on display
|chunnie.poh| 12:36 AM|


Friday, April 07, 2006
c

a

g

e

-

d

u

p

.
|chunnie.poh| 12:01 PM|


Wednesday, April 05, 2006
the UPS man buzzed this morning.guess what he brought.
.guess what we did.
we took out every pair laid them side by side.
|chunnie.poh| 2:13 PM|


Tuesday, April 04, 2006
here's my promise made tonight
you can count on me for life
the more my heart cant get enough
- aslyn, thats when i love you.
|chunnie.poh| 6:10 PM|