Sunday, February 27, 2005
back in melbourne!!!
feeling.confused...
past 3 months been a dream that ive been living in!!!
waking up to a place im so familiar with........
familiar faces that ill always see...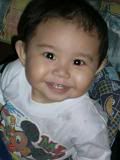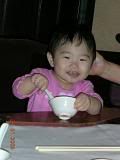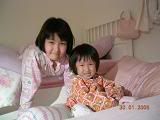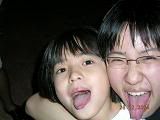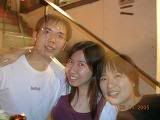 but thanks to people who have made me so comfortable and settling back here.so easy
toyous:would *you now,take my hand and walk with *you.
|chunnie.poh| 8:02 PM|


Thursday, February 24, 2005
isnt it evident from then?
or we have been too far into it
that non of us realised?


|chunnie.poh| 12:49 PM|


Wednesday, February 23, 2005
2 more days.
back to melby.
its an anticipation but as well as not.
to leave my feelings here and venture on the plane back alone.
this morning!!!
i walked into claudia's room.
to be greeted by claudia. HAPPY BIRTHDAY FEIFEI jiejie..
i went huhs?
i have no idea that like it was my birthday and i started laughing..
she looked shocked.
and i said..
erm today not my birthday...
claudia then asked.. why got party tonight again???
cause today is yuan xiao jie and also feifei jiejiee leaving also..
but was funny..
cousins cousins.
family family.
m awaiting for all of them to come later...
till thens..
see u in melbourne.
|chunnie.poh| 8:51 PM|


Sunday, February 20, 2005
maybe.i have not understood how you were.
thanks for everything.
ive learnt one valuable lesson.
not to talk to you about sensitive issues.
but to me:you are the dearest.
love u heaps.
|chunnie.poh| 8:44 PM|


Saturday, February 19, 2005
just praying that i would be able to sleep tonights.
i just screwed up my whole sleeping hours by sleeping so much the whole day...
but i really enjoyed every moment of yesterday night tilll this morning...
meet pok,han,pe,ives and samuel for dinner.
with them,nothing could go wrong.
laughs.shouts.love was all around.
the burps made.by ivy.. was something i was longing to hear from this bunch of friends.
we moved on then to visit ms GOH!!!at 10ishpm
talked.bout past times. futures. and
everybody.. DO BA-TIK...
took photos. exchange of hugs, and smiles.
i was all contented for the night. by 12am
whether being in the car shouting to the innocent parties at the back seat.
singing chinese new year songs to amuse them. or talking some nonsense.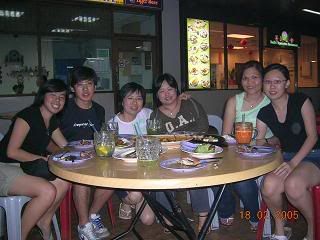 pok, samuel, me, han, ives and PENNY.half way through dinner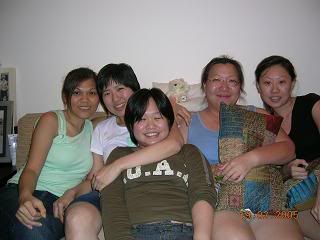 at ms goh's.....house.,thanks peter.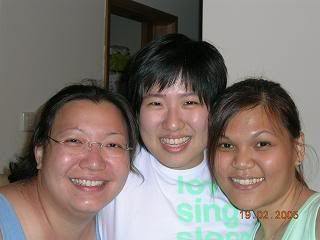 ms goh,me and IVES
was supposed to meet someone else... but then
miscommunication and stuffs.. in the end i went to meet another fren.
was so thankful he's around.

moved on to east coast. talks on the rocks, singing songs in the car
having mackers in the car, driving up and down.the east side
looking at *you the pig while you slept. drawing on ur hand while u slept.
snatching the bolster and gummy from you.
im glad.*you finally smiled. cheer up BOY and always remember bunny!!!
friends and family are there to support you.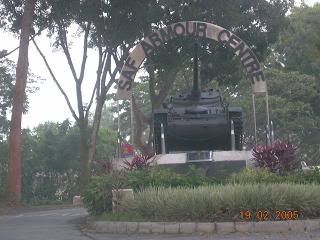 outside this camp..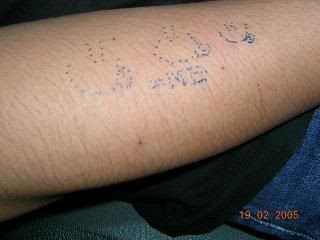 look!! what i did to bunny!!! i actually drew and then rubbed it all off when he was sleeping..
airport @5am to send sue-lee off.
just popped by for a little surprise and off i went on my way.
was good just sitting down with her for a while.
havent done that in a long time.
meet
ives
for breakky after dropping him at the camp.
i love this girl. i appreciate the thoughts,
waking up so early just to have brekky with me.
IVEs you are this beautiful babe which have such a BIG BIG HEART!!!
thanks for everything.. and counting down to the weeks that ill be returning.
i love u heaps.yes babe!!! K, K, not funny .. SLEEEP .. i cant imagine u saying this.
stay healthy and funky....
i cant thank God enough for this wonderful friendships and bond he has created for all ofus....
|chunnie.poh| 9:28 PM|


to*you who is sleeping.so soundly: good nights.
had a great day yest.night plus morning.
drove round singapore at least twice..
but i cld do all crazy stuffs. *you never know.
only with people whom i never ceased to love.
thanks pok and han for the advance 21st birthday card n pressies.
...
would blog more later.
m off to bed.
|chunnie.poh| 2:35 PM|


Thursday, February 17, 2005
HAPPPY BIRTHDAY 21st IVY DEAREST!!!
someone who never cease to make me laugh.
make me recollect of times in stc.
she's the one who made the difference to our lives.
talks.burps.laughing.
everything..
dearest.just wana tell you i love you heaps..n heaps..
stay p.r.e.c.i.o.u.s and just the way you are.
cause i love you just the way you are.
BOO... *tomorrow.i cant wait.s...
|chunnie.poh| 2:27 PM|


Tuesday, February 15, 2005
songs and memories.interconnected.
was driving from aunts place home.heard all these songs.
i looked back.as i shared the songs with that someone.
it makes u kinda wonder.
it makes u think.
memories. are like songs.
it reminds *you of the happy and unhappy times.
with that special someone...
but.when the song is over.
you know its time then
to move on.
|chunnie.poh| 10:16 PM|


to*yous: every step that *you take.
*you'll learn to become a stronger person.
i believe in *you, and HE does as well.
take control, spread your wings and fly ..
soon in time, *you would be alright.
till then, i would be behind *you...



10 more days.




wld be back in melbourne.




this time round....




ill b smiling back.




looking forward to hanging outs.chillings.




lychee ice-creams.drinkings,pubbings.




WOLLONGONG..in easter.




n yours trulys.visit.




till thens.



ives n penny: thanks.i love u girls heaps.
adeline: Happy 20th Birthday
Ives and Yanying: Happy 21st on the 17th.feb



|chunnie.poh| 2:21 PM|


Wednesday, February 09, 2005
GONG XI FA CAI everyone..
HAPPY NEW YEAR!!!
its the time of the year..
hee just taking a break from mahjong...
having dinners.with family...
nasi.lemak at 1am.
playing mahjong..
visiting parents friends...
watching the fireworks medley with family members. by the kulai-rians.
collecting ang paos.
all is a ritual but.m loving it.....
love chinese new year..........
though kulai.a small town.but
its the atmosphere that it attracts.
just a little preview of our chinese new year after 11pm.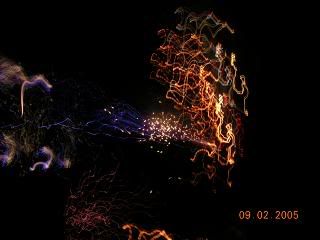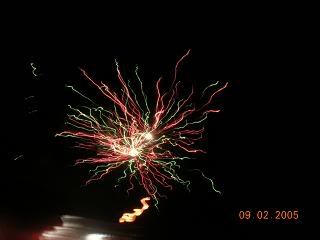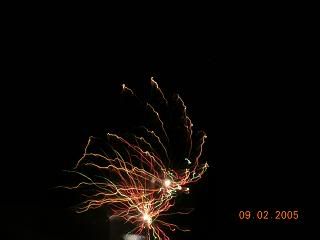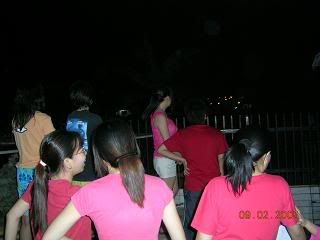 watchin fireworks together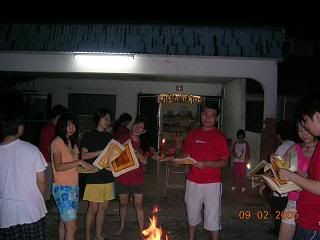 a family ritual.where my family adopts.
i wished i could put up the video clips.of the fireworks.
its the experience....of watching it all around in 360 degrees.
haha only if i know how to do it..=)
|chunnie.poh| 5:20 PM|


Thursday, February 03, 2005
in another 22 days.
im bound back to melby.
m looking forward to it and as well not looking forward.
m going to miss home.miss family.miss my frens here.
miss just being at home. miss just having mum beside me.
missing the late night suppers with aunts.
having to babysit the little ones.
but m sort of looking forward to hang out with my babes.bitching.gossipings
4am at mackers.joe's garage. trampoline ice-creams.
cooking with leen.hanging out with the girls.
late nights suppers.driving.
walking down latrobe street. looking forward to peoples visiting.
the visit to wollongong in easter.
not looking forward to the lonelynights in melby.
to have to face school work.to be homesick.
to miss out things at home. to be commited.
the shadow still lingers on.
the memories cannot be erased.
i still think.and i looked back.
how you.have stabbed and betrayed my trust.
how you think you have won every situation.
and just left me standing behind.
thinking that time would heal.
thinking by avoiding would do good.
but it doesnt. the feeling lingers on
cause the wound, would heal.
but the scar wouldnt go.

|chunnie.poh| 2:13 PM|