Friday, December 31, 2004
2004 is almost over.......
a 1 minute drive from the guard house to my house...made me screaming in my cousins
evo...i felt the thrill sitting in the car.i wanted more but...better not.
after that night out with my couz.
it made me think more,wonder more. the thoughts just beginning to unravel one by one...
i sit alone,at the edge of the window,thinking,recalling thoughts,memories....
with the chill wind of the monsoon season...
things that i hold so dearly to me,doesnt seem to be that impt anymore.
i rather let it be.then.not to be committed...
my minds so unclear about what it is like for next year......
2 years ago, i never thought i would be sitting here like that...
what is it going to be like then 2 years later.....
where would i be then?where would i be standing in the society of teachers..
the future seems so uncertain at the moment.....
so much,yet dunno who to start with,but friends that have stood beside me all these times, im really thankful and grateful for each and every single one.as 2005 approaches, i hope this journey of friendship would bring us to a deeper understanding of each other...im learning to understand, learning to learn the whole concept of what it is to be friends,to reach out, to bring out the best of us in our journey........
dearest.cally:congrats.
to.my.girls:im missing all...
to.my babes:so.much to catch up.missing u all heaps.
to.YOUS:maybe.thens.loveyou.justtheway.you.are..
likeyous:holding.on
|chunnie.poh| 4:20 PM|


Tuesday, December 28, 2004
to.alot.ofyous:how i wished i could reach out the stars for you..
how i wished i could wipe away all those tears..
send angels to keep you accompany when you feel lonely...
to cheer you up when you are sad...
time would heal all souls... please stay strong.
i know its hard babes....so hang on babes
i would be around.anytime. u need me...
would be praying for all..
2yous:you.made my day so bright,clear all those darkblue skies.
reasoning out with me,why today would be a brighter day.
i thank God for you.thank God for making this possible...
i cant wait for next week.spending more time with you...
holding on hope with you........
anne,ives,penny,bece babes.adel.char..eric.zk.joyce..etc.hey peeps.m missin u heaps.
meet ups soon yea.
and my dearest houseymates...leen.chua, geri. n liting... meet up soons!!!
and would be in kl from the 5th to the 22nd jan.and in the midst wld be in bangkok and malacca(hopefully)..hees. would love to catch up with alll....
JUST A MOMENT of thoughts.
im looking back.looking back at us.
how we used to laugh ,play and talked.how things have changed over the past 2 years.
im glad things turned out that way.
but im still looking back...at the memories.
that you once stepped into my life....
toyouthen:happiness for you and cheers to the friendship...
Merry Christmas and a HAPPY NEW YEAR!!!
|chunnie.poh| 7:59 PM|


Saturday, December 25, 2004
its been party.parties.and more to come this evening.
mum's dad's 30th wedding anniversary.party.tonights.
thursday was totally crazY!!
streams of people walked in for housewarming.
cant.handle the crowd.but thanks for the helping hands.
cousins were crazy...
my house filled with little ones for the 3rd day.....
yesterday.more people came...little cousins played and played...
small little party countdown in pyjs.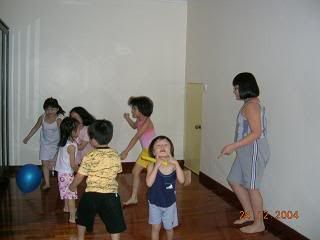 second.day after lunch activity
partying.with my little princesses.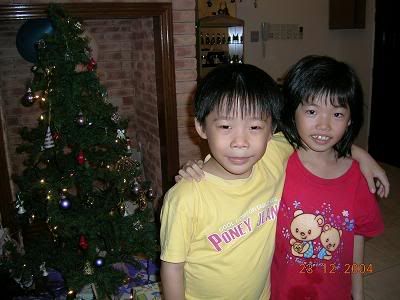 nephew n nieces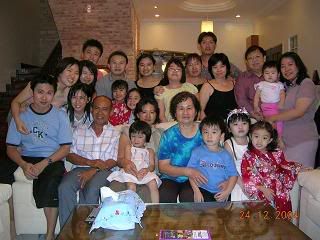 a.half family portrait. some.missing
more.cousins.from dad's side. with mum's side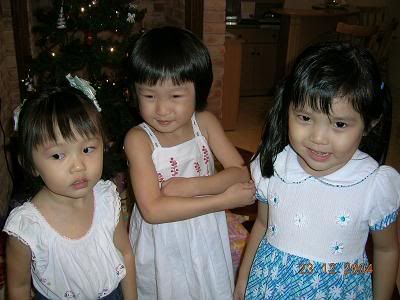 cousins.n more.little ones.
more to come.tonights.
more people.more fun.
MERRY CHRISTMAS ALL!!!
toyous:missingyou.most.
|chunnie.poh| 6:52 PM|


Tuesday, December 21, 2004
while zipping in,out of singapore and kulai.. i thought of you...
while missing you, i went out for a drive...
while thinking about you,i read a book
|chunnie.poh| 2:04 PM|


Monday, December 20, 2004
i wanan sleep...im tired.
all day long.i yearn to sleep...
woke up by three person this morning
daddy,aunt and ??forgot who?
i just want my bed to sleep in..
but think m heading out to singapore to shop for christmas pressies.
i need my beauty sleep.
need to be a piggie...
oink.oink...i need to sleep...
|chunnie.poh| 4:10 PM|


Saturday, December 18, 2004
for that moment.
that 1 minute.
i felt lost.
so torn apart.
cause you werent there.
when i look beside.
but when i turned around.
i found you.YOU.YOU....
toyous:we lived in two complete different worlds but.....i found you..
i hoped the talk did us both good.hoping to journey more with you...
so much more to journey with.esp next year..
im looking forward to next week... Christmas.spending more time with you..
|chunnie.poh| 4:41 AM|


Friday, December 17, 2004
on random thoughtS...
looking out at the clear blue skies,
the greenery's
my mind's thinking about you...
you who carried me through so much
it's you..
my mind's all about you..
its you...you..you...
|chunnie.poh| 9:19 PM|


Wednesday, December 15, 2004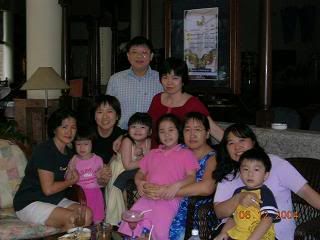 palm resort.....chilling out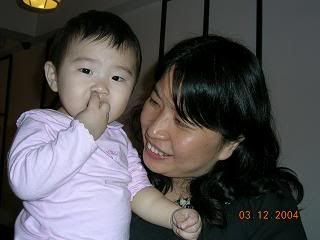 thats little pearlynnnn....and aunt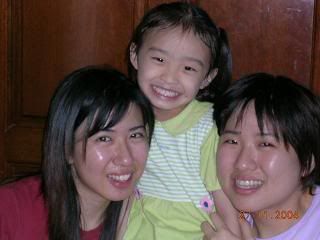 short and stumpy, claudia and the tall and stumpy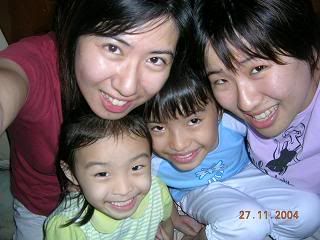 smile...=))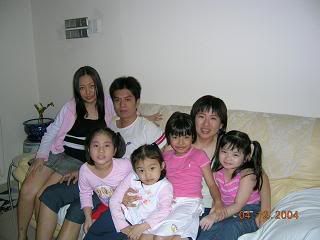 kl.trip at uncle jason's house!! the young ones!! where's pearlynn??
|chunnie.poh| 2:29 PM|


spending time at home....
its all chilling out and preparing for 2 big parties in a row...
next thurs.and sat!!
im getting alll excited...
everyone's getting excited...
its gonna be good......
and guess what.im looking forward to catch up with bunny and eric as well.
havent seen them ever since im back.sorry rics.!!!
bunny.hahha next tues okays?
toyous:you made me feel so excited.
so joyful... thanks....
to ives,char and penny: thanks babes!! for everything.time of fellowship,time of sharing.being always so concern!! i love you babes heaps.....penny thanks for accompanying me till like 6am in the morning!!
toyous:you made me realise there is so much more here.so much more that i ever dream of!! YOU.YOU.YOU.its you... you can be my santa clause anytime.
tomorrow night.k.L..chilling out with you!!looking forward to that..
|chunnie.poh| 2:07 PM|


Sunday, December 12, 2004
airport.a placed so filled with love...
i saw so many faces.anxious.excited
waiting for their loved ones.including me!!!
dajie is back for a weeek and amy n joyce. for the weekend!!
penny's and ives visit was really good.
desaru.seafood.food.supper.mamak.bar...
fun.laughter.talks....
toyous: im so happy that everythings here is done for u..
i cant wait for thurs to come when we will be going out!!
and next week!!praying and hoping that you are coming down!!
have fun today with ur family!!getting ur power-book!!!
you.YOU.YOU.made me feel so special...
you.my santa clause..its you.you.you...
|chunnie.poh| 1:50 PM|


Tuesday, December 07, 2004
toyous:studyhard for the paper...
telling me that you are excited about the trip.
makes me brainstorm of places that i would love to bring you.


we'll jazz through the places like times we do.



like you.i hope that next week comes soon too...
till then.study hard for ur paper on friday...
|chunnie.poh| 4:15 PM|


Monday, December 06, 2004
im looking forward to spending more time with you...
thanks
making this whole trip so filled with colours.
m already looking forward to christmas to spend more time with you.you.you
cecilia is coming on wednesday...
penny's coming to my place on wednesday night...
all the way to this weekend..its friends friends visit!!!
jess's coming too..yeay!!
last weekend was good.
had a good time with couz and aunts.uncles.and granny..
kl trip was good.
extended family in kl is so nice..
hope to meet up with u again next week...
hopefullly...im going up again!!hees.
arvo..spend at palm resort with aunts,mum,couz n uncle.
sipping strawberrys and creme.
watching the rain drop thru
relaxing and coool.....
|chunnie.poh| 8:49 PM|


Friday, December 03, 2004
the myriad life. the world which never stops.
would i be able to look back then...
why does your face keeps on haunting me...
|chunnie.poh| 1:28 PM|